PAX-SUN ENGINEERING, INC. COMPANY PROFILE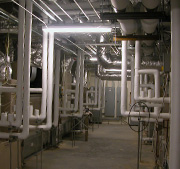 Pax-Sun, Inc. was formed in February 1978 for the purpose of purchasing the assets of Poulan-Jones, Inc., a residential heating, air conditioning and sheet metal fabricating company. The purchase was consummated in March and Pax-Sun, Inc. began doing business on March 15, 1978. The remainder of that year, sales totaled approximately $250,000.
Since 1994, T. L. (Tom) Paxson, PE, FNSPE has been devoting most of his time to engineering design and consultation. Bob Ecker and James Blackwood manage the day to day operations of the HVAC Construction-Service side of the business, with Bob concentrating on the Nacogdoches and north markets and James concentrating on the Lufkin and south markets.
Pax-Sun, Inc. has been a designing and installing building management system installations since 1985. The office and shop facilities of Pax-Sun, Inc. are located at 1607 East Denman, Lufkin, Texas with approximately 400 square feet of office space and approximately 6,000 square feet of shop area situated on .67 acres of land. In addition to these facilities in Lufkin, Pax-Sun has operated a branch office at 2212 North Stallings in Nacogdoches, Texas since 1986.
In December 2012 the decision was made to move the Engineering functions to a new corporation, Pax-Sun Engineering, Inc., with offices located at 1302 South College Street, Georgetown, TX 78626. The engineering offices are equipped to produce "AutoCAD LT 2021" drawings, pdf documents and black & white or color plots. As a separate corporation, Pax-Sun Engineering is better positioned to offer MEP consulting services.
The Angelina Chamber of Commerce named Pax-Sun, Inc. Small Business of the Year 2000. This prestigious award recognizes outstanding business ethics and community service by the company and its employees.
In January 2015, Pax-Sun, Inc. was sold to James Blackwood and continues to operate out of the same facilities in Lufkin and Nacogdoches. Tom Paxson, remained on the board of directors in a non-ownership position to provide advice and continuity.
Contact PAX-SUN, INC. for more information.
PAX-SUN ENGINEERING
Phone (936) 465-7046
PAX-SUN ENGINEERING, INC.
MANAGEMENT:
Thomas L. Paxson, P.E., President
Licensed Engineer in the State of Texas
Texas No. 57556,
Firm Reg. # 2731, TACLA000693C
Interested in learning more about our design engineering firm and HVAC construction experience?
Check out the PDF of our full company profile here.