PAX-SUN, INC. COMPANY PROFILE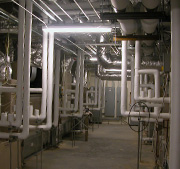 Pax-Sun, Inc. was formed in February 1978 for the purpose of purchasing the assets of Poulan- Jones, Inc., a residential heating, air conditioning and sheet metal fabricating company. The purchase was consummated in March and Pax-Sun, Inc. began doing business on March 15, 1978. The remainder of that year, sales totaled approximately $250,000.
After that first year sales grew steadily until 1986 when sales were almost $1.3 million. Sales for 2006 were approximately $965,000. Product mix has changed from almost 100% residential sales and service in 1978 to 20% Commercial Installations; 16% Residential Installations; 24% Commercial and Residential Service, 4% Miscellaneous Sheet metal Fabrication and controls, and 36% Engineering Services.
Design engineering is the area that has shown the greatest growth for the company over the past three years. Since 1994, T. L. (Tom) Paxson, P.E. has been devoting most of his time to engineering design and consultation. Bob Ecker has assumed control of the day to day operations of the HVAC Construction-Service side of the business.
Pax-Sun, Inc. has been designing and installing building management system installations since 1985. Although a minor part of the dollar volume of the business, involvement in Building Automation and Controls gives Pax-Sun capabilities found nowhere else in Deep East Texas.
The office and shop facilities of Pax-Sun, Inc. are located at 1607 East Denman, Lufkin, Texas with approximately 400 square feet of office space and approximately 6,000 square feet of shop area situated on .67 acres of land. In addition to these facilities in Lufkin, Pax-Sun has operated a branch office at 2212 North Stallings in Nacogdoches, Texas since 1986. Pax-Sun, Inc. operates five service trucks, two installation/service trucks and three sales/engineering vehicles. Currently there are 15 full and part-time employees including principles and management.
Engineering Offices are located at 211 East Shepherd, Suite 203. The engineering offices are equipped to produce "AutoCad LT 2008" drawings and black & white or color plots. The Angelina Chamber of Commerce named Pax-Sun, Inc. Small Business of the Year 2000. This prestigious award recognizes outstanding business ethics and community service by the company and its employees.
Contact PAX-SUN, INC. for more information.
PAX-SUN ENGINEERING
Phone (936) 465-7046
PAX-SUN HEATING & AIR CONDITIONING
Lufkin (936) 465-7046
Nacogdoches (936) 560-6758
PAX-SUN, INC.
The Angelina Chamber of Commerce named Pax-Sun, Inc. Small Business of the Year 2000.
MANAGEMENT:
Thomas L. Paxson, P.E., President
Licensed Engineer in the State of Texas
Bob Ecker, Nacogdoches Office and Commercial Construction Operations Manager
James Blackwood, Graduate Engineer
Lufkin Office Operations Manager
Robert Fenner, Service Manager
Interested in learning more about our design engineering firm and HVAC construction experience?
Check out the PDF of our full company profile here.
Yahoo! Local Listing